Grant Recipients Share their Appreciations
Andrew Bassila
High School Math Teacher
Tampa, Florida
Grant Used for: Secondary Math Workshop
I had a rough year. One teacher quit after 8 weeks and we did not find a replacement until the second semester. This had a cascade reaction that I felt I didn't recover from until fourth quarter. And that's when testing started. While my students did well in Algebra 1 and Precalculus, my AP Calculus class bombed; in fact, I found out scores days before coming to this training. This training reinvigorated me and gave me a much needed boost to stop kicking myself and move forward – looking through the windshield, rather than the rear view mirror, if you will. Additionally, I formed a new professionally learning community with other math teachers in Florida and around the country. We are already writing each other and reminding each other of our key take-aways to have successful implementation of our training. Plus, we are swapping materials and activities that we've created to help each other out as long as we promise to provide feedback and any modifications.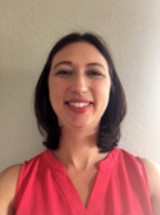 Meghan Bonde
Speech Language Pathologist
Westminster, Colorado
Grant Used for: Social Thinking Conference
I gained a deeper knowledge of how to teach students with social cognitive challenges and well as keep the big picture of life after graduation constantly in mind. It is easy to get distracted by pressures to increase district and state test scores, but this is not the end goal of education. While these skills are important, mental health and social communication skills are critical to the success of people and the future of our society. It is important to take a strengths based approach with all learners and teach in a balanced way that allows learners who may score high on district test scores to learn skills that they may lacking that are difficult to measure, and also to celebrate the strengths of students who struggle with the skills measured on these tests and use them as mentors in the area of social communication and self-regulation.
Tina Briones
5th Grade English Language Arts and Social Studies Teacher
Metarie, Louisiana
Grant Used for: Kagan Summer Academy
I want my students to succeed and through engagement they will. When my students succeed, I will succeed on a professional level. I hope to enjoy my days of teaching more and with what we learned in that amazing week of training, I can't see how that won't happen!
My students will benefit from my training because my classroom environment will be more positive and engaging. My students will learn and retain more information through more engagement. Their test scores will reflect this additional retainment and they will be more successful.
Jarah Lewis
3rd Grade ESL Teacher
Lewisville, Texas
Grant Used for: Kagan Regional Academy
I feel like this was the best teacher training I have ever gone to. I am going to completely restructure my class arrangement and my lessons.
I want to thank the Foundation so much for helping me get to this training. My school didn't have the funds available to send me. I would not have been able to attend without your help. I have very low income, ESL students who do not perform well on tests. I see now they needed structures that could help them review/study the material I was teaching. This training is the best thing I could have done to help me become the kind of teacher my students need. I feel like now I can get them learning and engaged much more efficiently than before. Instead of 1 in 19 participating at a time I can get 50-100% engaged. That is going to help my students so much!
Cyndi MacDonald
5th Grade Teacher
San Jose, California
Grant Used for: Math Teaching Resources
"Thank You! I am just so excited!
Jose Christian Portillo Romero
2nd Grade Teacher and Teacher Trainer
Guadalupe, Mexico
Grant Used for: Kagan Summer Academy
Hello to all the Kagan Charitable Foundation Donors,
My names is Christian Portillo, I'm a teacher from Mexico, and a Grant scholarship winner.
What I like the most about the training is that not only me is the one that will benefit about it. I already have four weeks working with my new kids, and all this new form of working engaged all of them, not only a few, all of them. They are working with passion, engaged, fun, and developing their social skills, that in this time is very important for every kid.
For all you thank you very much, because you take the chance on a person that is outside your country, because thanks to all of you, teachers can grow professionally and personally.
Thank you!
Sincerely,
Christian Portillo
Kristen Ream
4th Grade Elementary Teacher
Grand Blanc, Michigan
Grant Used for: Kagan Cooperative Learning
It was amazing! I couldn't have had a better trainer and week of learning. I can't wait to take everything back into my classroom and implement it right away!
This week was one of the highlights of my summer!
Thank you to the Kagan Charitable Foundation for providing me with the scholarship and opportunity to attend Kagan Summer Academy.
I have been able to change the way I teach and see the engagement and climate in my classroom change for the better. I will be forever grateful to Kagan Charitable Foundation for making this possible!
Sarah Rumsey
3rd Grade Teacher
Greenwood Village, Colorado
Grant Used for: Kagan Cooperative Learning
Without a doubt, this had to have been one of the most beneficial trainings I have ever attended throughout my (nearly) twenty years of teaching.
I am truly grateful to have had the opportunity to attend this workshop. When one has been teaching as long as I have, it is incredibly refreshing to find something that reignites one's passion for education and serves as a reminder as to why we got into this field in the first place.
Nathan Hale-Ray
Middle School
Moodus, Connecticut
Grant Used for: School Training
Teachers at Nathan Hale Ray Middle School expressed that the Kagan Cooperative Learning Workshop was some of the best professional development they have ever received. Teachers appreciated that the structures are well developed, tried and true and are presented in the Kagan Cooperative learning book in a way that they can easily reference and utilize.
The training helped teachers to become aware that student engagement was not what they thought it was within their classrooms. Once they had the opportunity to see Kagan structures at work, it was clear to many that there are structures to keep all students engaged. Teachers were able to take what they learned back to their classrooms and without laborious preparation, were able to begin implementing Kagan structures. The Kagan Professional Development is helping our teachers support student learning, increase student engagement make class more fun for students.
Kagan Structures that are being incorporated regularly into classrooms are successfully getting students up and moving. Students are more energized and are remaining more focused as they have the opportunity to move around the room while team building or continuing to learn content material. Students are becoming very excited about Kagan Structures and are often asking for them in classrooms where they are being used frequently. Students are more engaged as the structures inconspicuously demand engagement. Students do not realize that they are learning while they are having fun in the classroom. Teachers have also noticed that Kagan structures are engaging students who are typically hard to asses through observation because they do not often participate. This is providing teachers with more information to help them drive their instruction and meet the needs of all students. We are confident that the implementation of Kagan Structures in our classrooms will increase student engagement and improve student achievement.
Kate Campbell
3rd Grade Teacher
Nashville, Tennessee
Grant Used For: Neuroscience and Education Symposium
Thank you to all the donors to the Kagan Charitable Foundation. Because of you, I was able to attend the 2-day Neuroscience and Education Symposium, presented by Vanderbilt University.
Being a teacher, I work with children who deal with ADHD challenges on a daily basis. Because of this workshop, I feel much more confident in adapting my teaching to meet those students' needs.